Japanese Language Immersion Course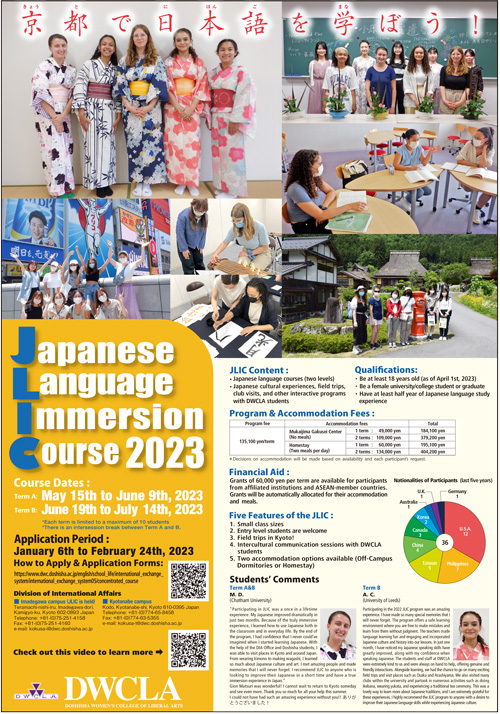 The Japanese Language Immersion Course (JLIC) at Doshisha Women's College of Liberal Arts (DWCLA) began in 2008. It is composed of two terms. The first term, Term A is a four-week program from the middle of May to the middle of June. Following the completion of Term A, Term B begins, which is also a four-week program from the end of June to the middle of July. Students can stay for eight weeks, participating in both courses if they wish. The program offers introductory Japanese language courses to students whose first language is not Japanese. Throughout the course, students have full access to all the facilities available on campus. In addition to studying in the classroom, students can also experience multiple fieldtrips during the course, which include tours of Kyoto.
Please note that this program is open only to female undergraduate students or graduates whose goal is to improve their Japanese language skills. If you wish to participate in the JLIC, please refer to "5. How to apply for the JLIC."
Japanese Language Immersion Course (JLIC) 2023 Application Guidelines
1. Program Outline
1) Course Dates
Term A : May 15th (Monday) to June 9th (Friday), 2023
Term B : June 19th (Monday) to July 14th (Friday), 2023
※There is an intersession break between Term A and B
2) Place
Imadegawa Campus (Kyoto City, Kyoto Prefecture)
3) Course Content
Japanese Language Course (in the morning) : Ten 90-minute classes per week. The classes are divided into two levels.
Japanese Cultural Experiences : Kimono wearing, tea ceremony, calligraphy, flower arrangement and Japanese confectionary making, etc.
Field Trips : Visit to temples and shrines, etc. in Kyoto.
Social Events : Welcome party, Farewell party, club visits, and other events with students at Kyotanabe campus, etc.
※This tentative schedule is subject to change.
4) Accommodations
DWCLA offers two types of accommodations:
a) Homestay (two meals per day) :
Stay with the family of a DWCLA or Doshisha University student or graduate.
※Host families reside within 90 minutes from Imadegawa Campus.
b) Mukaijima Gakusei Center :
Single rooms are available in the Kyoto municipal housing for international students. No meals are included in the fee. Free internet access is available. The dormitory is located 30 minutes by train from the Imadegawa campus and a 15-minute walk from Kintetsu Mukaijima station.
Decisions about accommodation will be made based on availability and each participant's request. Participants should move into their accommodations two days prior to the term starts, and leave in two days of the term ends.
5) Program Size
Each term is limited to a maximum of 10 students
6) Transcript and Certificate
The transcript and the certificate of completion will be given by the president of DWCLA to students who have successfully completed the program.
DWCLA does not give school credits to the participants.
2. Qualification for Participation
An applicant must meet all the following requirements.
Be an undergraduate student or a graduate of a higher education institution abroad.
Be a female student 18 years or older as of April 1, 2023.
Have at least 6 months of Japanese language study experience prior to the course.
3. Program fees
The program fees : ¥135,100 per term
Program fees include tuition fees, the field trip fees (transportation and admission fee), Welcome and Farewell party fees, and the insurance premium.
The accommodation fees as well as meals depend on which type of accommodation an applicant chooses (For the applicants from affiliated institutions and ASEAN-member countries, the financial aid will be allotted as a part of accommodation fee.)
a) Homestay
:(1 term) ¥60,000 (two meals per day)
:(2 terms) Including an intersession break-¥134,000 (two meals per day)
b) Mukaijima Gakusei Center
:(1 term) ¥49,000 (no meals)
:(2 terms) Including an intersession break-¥109,000 (no meals)
Others
The program and accommodation fees do NOT include the following:
Airfare
Round trip transportation between Kansai International Airport and your accommodation
Cost of commuting
(If the total cost of the commuter's pass exceeds ¥5,000 per month, DWCLA will pay the difference.)
Lunch fees
Phone bills
Textbooks
4. Financial Aid
Grants of ¥60,000 per term are available for participants from the affiliated universities/colleges and from ASEAN-member countries.
For a homestay student, the full amount of ¥60,000 per term will be paid to the host family to cover 2 meals/day and basic living expenses. If you stay for both terms (Terms A & B) , the accommodation fee during intersession week: ¥14,000 will be charged.
For a Mukaijima Gakusei Center student staying for one term, \49,000 will be allotted for the dormitory fee. The remaining \11,000 will be given to the student at the beginning of the program.
For a Mukaijima Gakusei Center student staying for both terms (Terms A&B), \11,000 will be given at the beginning of Term A, however, there is no Financial Aid for Term B because all the grants for Term B will be allotted to the dormitory fees, including the accommodation fee during intersession week.
5. How to apply for the JLIC  
※If the postal situation is not good, we will accept the documents by PDF documents. If you are thinking about applying for this program, please contact this E-mail address "first" (kokusa02@dwc.doshisha.ac.jp)
The applicants must submit the following documents to the Division of International Affairs(DIA) of DWCLA either directly or through the staff in charge at their home institution.The documents have to be sent by postal mail before the application deadline.
The application period:January 6th to February 24th, 2023.
2023 Japanese Language Immersion Course Application Form
Statement of Purpose (See Q4 in the Application Form)
Certificate of Health
Japanese Language Inquiry
Letter of Recommendation
Official transcript from Home Institution
A clear color copy of your passport (the page on which your name and photo appear)
Homestay Placement Questionnaire
A brief letter introducing yourself for Host Family
A snapshot of yourself
2 clear color ID quality facial photographs(4cm x 3cm/ 1.6 inches x 1.2 inches)
※All applicants must submit the Homestay Placement Questionnaire (document No.8) and a brief letter for Host Family (document No.9) regardless of their choice in accommodation.
6. Final Decision on the Program Implementation and Acceptance
Applicants will be notified of the results of their application either directly or through home institution within two weeks of receiving application.
7. Payment of Participation Expense
As for the participation payment, please make bank transfer to DWCLA either directly or through your home institution by the end of March (according to Japan Standard Time).
Cancellation fee will be charged as follows:
| Days Prior to Program start date | Cancellation Fee |
| --- | --- |
| 9+ Days | No penalty (full refund) |
| 8 Days | ¥13,510 (10% of the program per term) |
| 1-7 Days | ¥40,530 (30% of the program fee per term) |
| after program start date | No refund |
8. Visa Information
Please ask the Japanese Embassy or Consulate in your country if a visa is required or not in advance.
9. Insurance
The content and coverage of the insurance that is covered during the program is as follows:
The participation fees include insurance.
Injury
Death and residual disability

¥6,000,000

Medical Treatment cost
¥3,000,000
Disease
Treatment cost
¥1,000,000
Liability for personal injury or property
¥100,000,000
Loss or damage of your own personal belongings
(Insurance period is within 31 days.)
¥300,000
Household goods and personal belongings for students
(Insurance period is over 31 days.)
¥400,000
10. Application Form Submission Office and Contact Details
Address
Teramachi-nishi-iru, Imadegawa-dori, Kamigyo-ku, Kyoto 602-0893 JAPAN
Doshisha Women's College of Liberal Arts
Division of International Affairs
Phone
+81-(0)75-251-4158
Fax
+81-(0)75-251-4160
Email
kokusa-i*dwc.doshisha.ac.jp (Replace * with @)
Web site
https://www.dwc.doshisha.ac.jp/english/