Introduction
In 1977, the 100th anniversary of our university, Japan's first underground library opened on the Imadegawa Campus. This library was designed with consideration for the campus landscape, and to preserve the expansive trees, lawn, and the garden that was originally associated with Professor Denton. This was revolutionary, and became a highly-talked about subject at the time.
In 1986, the Tanabe Branch was established in the Chitoku-kan together with the opening of the Kyotanabe Campus. In 1990, this was moved to the 1st and 2nd floors of the Sokei-kan. Since then, the Doshisha Women's College of Liberal Arts Libraries have developed focusing on the specialized fields of the Imadegawa and the Kyotanabe Libraries.
We currently provide various materials, such as online databases, electronic journals, and electronic books, in addition to book materials such as books and magazines, audio and visual materials such as DVDs and CDs, and sheet music materials. We are supporting the educational and research activities of our users from various aspects.
In the future, in order to make our library more appealing for use as an indispensable place for learning and research at the university, we will provide an abundance of materials for education and research, and a pleasant environment for our users. We will also release our fully-realized collection of materials to the public, as we strive to further expand our functionality as a library.
We hope to contribute to the research and learning of all of our visitors as they actively utilize the library.
Library Overview
Total Area (current as of April 2021)
Imadegawa Library: 2,953m², Kyotanabe Library: 7,349m²
No. of Books (current as of April 2021)
Books: 560,754 (Imadegawa: 194,154, Kyotanabe: 366,000)
Academic Journals: 8,051 titles
Audiovisual Materials: 35,941 items
Musical score: 26,133
*Total area includes the Learning Commons area.
Kyotanabe Library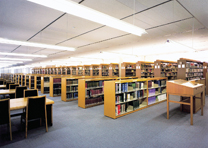 The Kyotanabe Library is located on the 2nd floor to the 1st basement floor of the Sokei-kan at the western end of the Kyotanabe Campus. The building is connected to the East Building, which was completed in 1990, and the West Building, which was expanded in 2005. A variety of spaces such as an open stack reading room, a closed stack library, a valuable library, a music literature room that handles musical score, and an audiovisual library that handles audiovisual materials are located in a spacious space.
The open stack reading room features seats for reading, and a bookshelf with a capacity of about 250,000 books. Many students use the materials here for their learning and research.
There are about 140,000 books in the closed-stack library, including books specialized for research, as it is primarily used by faculty, graduate students, and graduation year students.
You can find valuable materials in the Valuables Room, such as the collection of 19th century caricaturist George Cruikshank.
The Learning Commons was established next to the library in April 2018.
Click here for details on the Learning Commons
Kyoto-fu, Kyotanabe-shi, Kodo 610-0395
Get off at Kintetsu Line Kodo Station, and walk for about 10 minutes (about 30 minutes from Kyoto Station, and about 20 minutes from Saidaiji Station)
Get off at JR Line Doshisha-mae Station, about 3 minutes' walk (about 40 minutes by rapid train from Kyobashi Station)
Imadegawa Library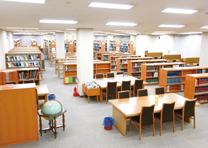 A library built in 1977 by Azusa Kito, an architectural designer. It was designed as an underground library as the space on campus is limited. Therefore, the lawn garden spreads out above ground, and the underground part is an expansive library that is not overwhelmed by the other school buildings on the grounds.
Kyoto-shi, Kamigyo-ku, Imadegawa-dori Teramachi Nishi-iri 602-0395
From JR Kyoto Station or Hankyu Karasuma Station, get off at Imadegawa Subway Station and walk east for about 5 minutes (about 15 minutes from Kyoto Station)
Get off at Keihan Demachiyanagi Station and walk west for about 10 minutes