Postgraduate Certificate Program in Music
Become a music professional who is active in society
Point 1

Practical education for enhancing playing skills and expertise
We are developing practical education with an emphasis on practical skills to develop human resources who can contribute to society through music. Through gaining knowledge about playing methods and interpretation of works, we will further enhance performance skills, and develop human resources who can comprehensively understand all types of music.
Point 2

Creating human resources who can be active in society based on skills and knowledge
In addition to cultivating rich musical values, advanced performance skills, and a wide range of specialized knowledge, we are also training for the ability to actively participate in all musical fields, such as the initiative to create musical collaborations, musical creativity for various genres to respond to social needs, and the ability to produce music. Through practicing musical activities, we will guide the students to become human resources who can use the results of their studies to give back to society. Also, we promote exchanges between the major and undergraduate students with our curriculum, which takes the connection with undergraduate education into consideration. Let's aim for synergetic effects in our education.
Entrance Exam Outline
List of Majors
Vocal Studies Course
Keyboard Instruments Course
Piano
Organ
Harpsichord
Orchestral Instruments Course
Violin
Viola
Bassoon
Cello
Saxophone
Contrabass
Horn
Harp
Trumpet
Flute
Trombone
Oboe
Euphonium
Clarinet
Tuba
Enrollment Capacity / Study Period
Enrollment Capacity: 20 students
Study Period: 1 year
Obtainable Licenses
Junior High School Teaching Specialized License (Music)
High School Teaching Specialized License (Music)
Expected Post-Completion Field
Music Teacher (Junior/High School)
Symphony Member
Music Expert
Musician
Music Educator
Attending Graduate School Overseas, etc.
Major Student's Voices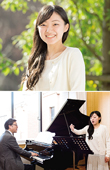 Thorough guidance with a small number of people
Ms. T.S
Postgraduate Certificate Program in Music, Vocal Studies Course
Graduated March 2016, Faculty of Liberal Arts, Department of Music, Music Performance Major, Vocal Course
I decided to attend this major because I wanted to increase my knowledge and improve my performance skills. Unlike undergraduate courses, the classes are held with a small number of people. It's easy for us to exchange ideas, and people would quickly identify problems, so each class was truly significant. The classes I'm taking are vocal classes such as song research and opera, and the classes for all major students such as Music Book Reading and Music Foreign Language. I'd like to become a musician who can utilize the things I've learned in university, and be able to show people from all generations the beauty and fun of music.
---
Curriculum
Contact Us
Doshisha Women's College of Liberal Arts, Faculty of Liberal Arts, Department of Music
Kodo, Kyotanabe-shi, Kyoto Prefecture 610-0395
Phone: (0774) 65-8501
Fax: (0774) 65-8504
ongaku-t@dwc.doshisha.ac.jp
---
Undergraduate / Postgraduate Certificate Program / Graduate School