Department of Social System Studies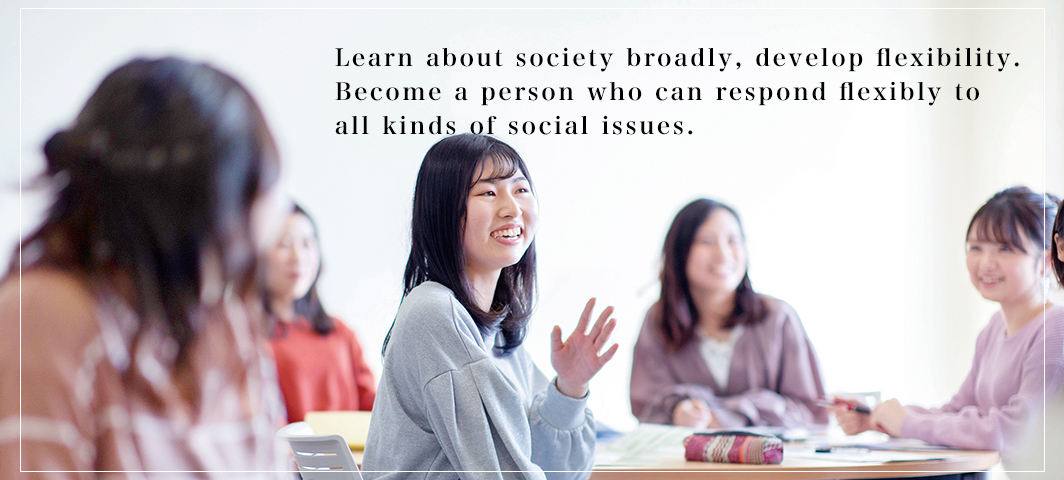 Learn about social issues through hands-on experience, develop problem-solving ability and humanity.
Point 1
Freely design your learning
The merit is that students can independently select their courses from a course group that includes a wide variety of fields. After establishing a foundation from basic and introductory courses, students can design their own curriculum from the 2nd year that suits their interests.
Point 2
5 Courses to deepen interests and learning
From the 3rd year, students can select one from the five courses of Multicultural Coexistence, Kyoto & Tourism Studies, Life Design, Business Management, and Public Policy and Law, and learn more specialized knowledge.
Point 3
Refine global communications skills
Our unique special English language program CASE (Career and Academic Studies in English) helps to cultivate women who will spread their wings out into the world. We also feature similar programs in Chinese, French, and German.
Point 4
Real-world, hands-on learning experience
Through cooperation with local communities and corporations, students will develop their problem identifying and solving abilities through practical learning in project-like classes aimed at analyzing and solving current issues.